You are in Command!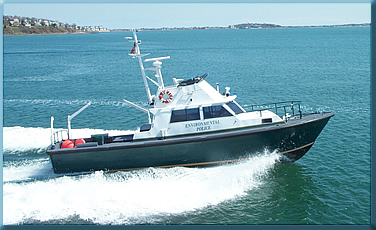 When out on your boat you are in command and responsible for not only your own safety, but for those aboard your boat and anyone else that you may encounter.
The United States Coast Guard reminds you of four important duties while you are in command:
Get a free Vessel Safety Check (VSC)

Vessel examiners issue no citations. There are no penalties for not successfully completing a Vessel Safety Check.

Vessel Examiners provide you with a copy of the vessel safety check form, allowing you to make the recommended safety improvement at your own discretion.

And while the VSC decal won't necessarily preclude boardings by law enforcement authorities, it can give you confidence that such encounters are a positive as possible.

Need another reason? A large number of major insurance providers offer discounts for boats that successfully pass a Vessel Safety Check!
Take and abide by a Safe Boating Course

Among operators involved in reported boating accidents, 65% have never taken a safe boating course.

Your local Coast Guard Auxiliary Flotilla offers a safe boating course.

You can also take America's Boating Course on-line or by using a CD-ROM. Contact www.americasboatingcourse.com
Always wear your Life Jacket

The U.S. Coast Guard estimates that life jackets could have saved the lives of over 80% of boating fatality victims.

Accidents can, and do happen with terrifying speed on the water. There is rarely time to reach stowed life jackets.

To meet U.S. Coast Guard requirements, a boat must have a Coast Guard approve Type I, II, III, or V life jacket for each person aboard. Boats 16 feet and over must have at least one type IV throwable device as well.
Never boat under the influence

In the marine environment---motion, vibration, engine noise, sun, wind, and spray---intensify the effect of alcohol and drugs. These "stressors" cause fatigue and dramatically affect a boat operator's coordination, judgment, vision, and reaction time.

Boating under the influence is a clearly identified contributor to approximately 33% of fatal boating accidents.

Levels of blood alcohol or medications that would have little impact on land can potentially cause a much greater degree of impairment for the operator of a boat.